Dear Friends
as I've written on other pages of this website, my adventure as a collector of small scale cars began during the early sixties, with the plastic models of the Italian company APS, known as "Microminiature Politoys".
I used them to play and I enjoyed them very much. They cost only 200 lire each, for this reason I bought several of them and I was proud of my small garage. So, at times, it happened that some of my cars remained "stuck" in the pockets of my pinafore and they ended up with me in my class room. During the school recess they jumped out and sparked great admiration and a bit of envy among my school mates. Then, other children began to also bring their cars and we began bartering.

One day a friend of mine received as a gift a Mercury Fiat Coupe 2300 S, silver painted, with two doors and open hoods, and he brought it to class. I found it a little off color and did not give it too much attention, but the other mates showed their appreciation and started looking at me and my colored cars with a certain indifference.
I immediately understood that the spell was broken and that I had to put it right. But those metal models cost over twice the price of my cars and even if I could afford to buy some every now and then my collection was growing at a much more slower pace.
Therefore I stopped bringing my cars to school, also because the owner of the Fiat 2300 S Coupé also showed off a Mercury gold plated Mercedes "Pagodina" , with two open hoods. And I liked this one so much, to the point that I started to despise my light blue Ford Anglia and also my gray mouse Innocenti Austin A40.

After this, I got the killing blow from another school mate (a very wealthy one) in high school. He enchanted a substitute teacher by got out of his folder a Solido Bugatti Royale: it was majestic, with a red base and the perspex cover framed by the classic gray box of the first series. With open doors, the transparent roof and the inevitable rampant elephant on the radiator. It cost a lot of money and I could not compete ...
Then I got into metal cars, especially the Politoys-M. My Politoys plast were put aside for a long time, for many years, until I gave them all to my cousin (boxes included).

A decade later I started to build that miniature garage and to re-evaluate plastic Politoys and realized that many other collectors from around the world shared the same goal.
By managing this site I receive many emails about car models and the demand of "plast" is becoming more urgent.

Therefore, I had to create this page, but to create the different specifications I needed a lot of pictures and my collection was still glaringly incomplete. I therefore accepted with great enthusiasm the proposal of my friend collector Massimo Carini who participated with eagerness to the initiative, providing lots of pictures and, especially, his extensive experience.

Here is the result then: this page contains all the production of plastic APS Politoys, from military vehicles to passenger cars, from race cars to vintage and commercial vehicles. However I have also included in the page the Fibre-glass series (to which I devoted a page on this site) even if they are painted fiberglass models and not coloured plastic ones.

I hope I have not skipped any of the models, and I will be grateful to anyone who would like to provide useful suggestion for the completion of the page or the correction of any mistakes. The specifications will be available for each model with details of features and pictures taken from different angles and different colors. Those who have some images of other variants can e-mail them to me and I will include them, always quoting the source, in compliance with the ownership rights for images.

Thank you all
MILITARY SERIES
(from No. 1 to No. 18)

This is a series of car models of variable scale (officially 1/41, but in fact the scale is highly variable) produced from 1960 to 1964-65. They are all in various shades of olive green, and some have also some figures. Over time they have undergone few changes, mainly related to the wheels that were initially rounded and smooth and that later were improved by including the new rim. The rubber tires show treads good for all terrain on all versions.
The quality and details of the molds are though very low and these models are snubbed by many collectors, who regard them as merely toys.
It is worthwhile to collect them only if they are in perfect condition, complete with all the pieces and their original box. Average price from 15 to 25 euro.


OLD TIMES SERIES
(From No. 100 to No. 115)
There are 16 models in all, numbered from 100 to 115, produced from 1962 to 1964-65. This is a very simple models, easily disassembly and therefore with accessories (lights, number plates, horns, etc...) that can easily be lost. The early models also had figures, later eliminated to reduce the production costs.
Let's just say that collectors are not competing to get them, even if in reality, when they are displayed next to each other, as in the large photo below, they look quite good. Their main drawback is certainly the excessive and unreal choice of colors, which often makes them look like the toys surprise found in the Easter eggs. But one has to assemble the toy surprise. The average price is around 10-20 euro (of course we speak of perfect models, complete with box). Exception are the last issues (the Bentley and the Lancia Lambda) that reach considerable prices, sometimes even over 100 euro, because they have had a more limited production. The versions fitted with figures are sold at around 10 Euro more, because they are older.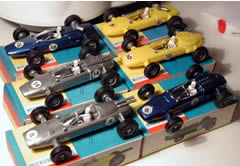 RACING CARS SERIES
(From No. 51 to No. 64 and
from No. 200 to No. 204)
There are 17 single-seater racing cars (formula 1, formula 2, etc..) plus the Porsche 550RS and the D Type Jaguar, which are on a higher level. The formula 1 cars originally costed only 100 lire, therefore they are very roughly finished as for details and accessories. For this reason this series is not very sought after by collectors and the price remains low (10-15 euro for perfect models with box). The Porsche and Jaguar reach much higher prices (even 60-70 euro each).
I have to point out that the HAS F1 (art.63) is a pure fantasy car.

CHEAP SERIES
(From No. 121 to No. 132)
A cheap series such as that Plast Politoys has also its cheaper series. There are 12 very simplified models, with interlocking parts, brightly colored, quite ugly: an article to be bought in a stand. These models were also produced in metal (Politoys-M series), but the FIAT 124 sedan (Article 127) is a new entry. They're hard to find especially because from the outset it was obvious that they would not have had a high value for a collectible. This is why today, they can reach high prices (even more than 100 euro).